The busy holiday season is upon us, and while for many that brings with it excitement for presents, family time, and general holiday merriment, for others, it brings excitement of another kind. This time of year also marks the beginning of snowy adventures in and around Wausau. While there are plenty of things to do in Wausau in the winter outdoors, there are just as many wonderful things to do inside, away from the harsh elements of winter. That's what makes it such an appealing destination for so many!
Whether you want to get cozy with your sweetheart in front of the fire at our luxury Wisconsin cabin, or you'd prefer to be cross-country skiing or snowshoeing your way through a winter wonderland, you'll find there's no shortage of great things to do in Wausau in the winter. Moreover, Wausau is home to the Midwest's premiere ski area, Granite Peak Ski Resort.
It truly is a winter paradise – but before we get into more details about all the fabulous things to do in Wausau in the winter, we'd like to first invite you to a few cozy days of respite in our brand-new luxury cabin in Wisconsin. The Owl Ridge Cabin is located just a few minutes from downtown Wausau, surrounded by several wooded acres and nothing but wildlife to keep you company. It's the perfect oasis for a couple's getaway this winter, whether or not you plan to partake in the many fun things to do in Wausau. Book your getaway today!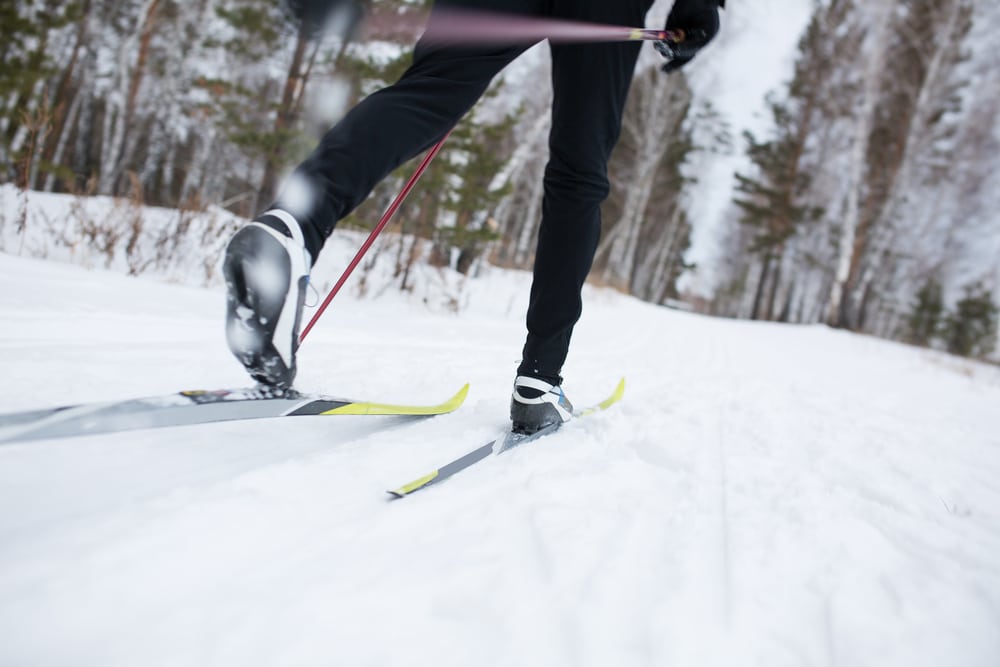 The Best Things to do in Wausau in the Winter
Wausau has long been hailed as an outdoor lover's paradise, with ample opportunities for hiking, biking, kayaking, birdwatching, and more. In the winter, outdoor enthusiasts will find an entirely new range of pursuits to enjoy in this ruggedly charming Northwoods town. But, even though there are so many great things to do in Wausau in the winter (and year-round) that involve the outdoors, there are just as many great things to do that don't involve getting dirty, cold, or wet.
Our charming town packs in plenty of small-town charm but offers wonderful big-city amenities like those you'd find somewhere like Madison. There are fantastic museums here, a leading performing arts theater, great shopping, and some fantastic restaurants to enjoy during your getaway. In short, there are more than enough things to do in Wausau in the winter to keep you busy for several days. Below, we've listed a few of our favorite things to do in Wausau in the winter.
There's no doubt in our mind that one of the best things to do in Wausau in the winter is to ski or snowboard at Granite Peak Ski area. It's touted as the Midwest's premier ski destination thanks to its fantastic 700-foot vertical drop, 68 runs, and four terrain parks, in addition to a super-modern high-speed chairlift system that gets up the mountain quickly.
Cross-country skiing is another one of the most popular things to do in Wausau in the winter. Though there are plenty of areas to embark on this time-honored winter tradition, there is none more popular than 9-mile Forest Recreation Area.
If you're not up for skiing or snowboarding, or even cross-country skiing or snowshoeing but still want to play in the snow, have a bit of fun at the tubing park at Sylvan Hill Park in Wausau.
On Saturdays, local vendors set up shop at the Wausau Winter Market every Saturday at Whitewater Music Hall. Here, you'll find local produce, baked goods, and artisan wares.
When you don't want to do much but still want to experience an authentic taste of Wisconsin, head to one of Wausau's local Wisconsin Breweries. It's a fun and easy way to spend an afternoon and one of the most popular things to do in Wausau in the winter. Head to Red Eye Brewing or Bull Falls Brewery. You should also check out Timekeeper Distillery while you're in town.
Grand Theater, Wausau's leading performing arts venue, is never a disappointment, and they offer a variety of fantastic shows year-round.
You'll also be impressed with the culinary prowess shown by local Wausau restaurants. With everything from delicious Italian and delightful Asian-Fusion cuisine to farm-to-table locavore eats, you can find it all in this charming Wisconsin town.
Wausau is also home to some truly fantastic museums, including the Leigh Yawkey Woodson Art Museum, known for its famous annual Birds in Art Exhibit, and the Center for Visual Arts for modern paintings, prints, and photography.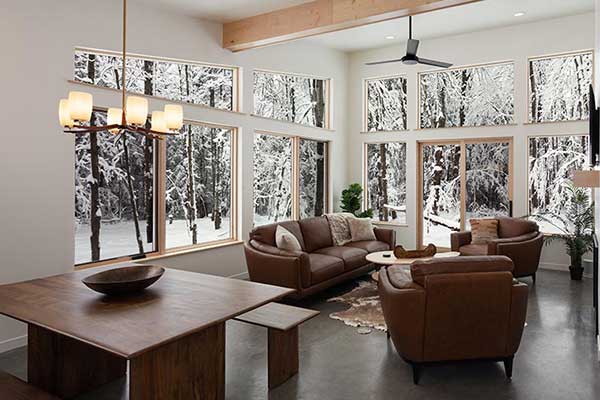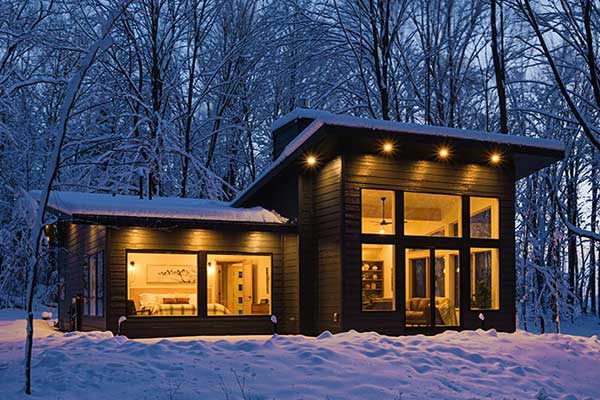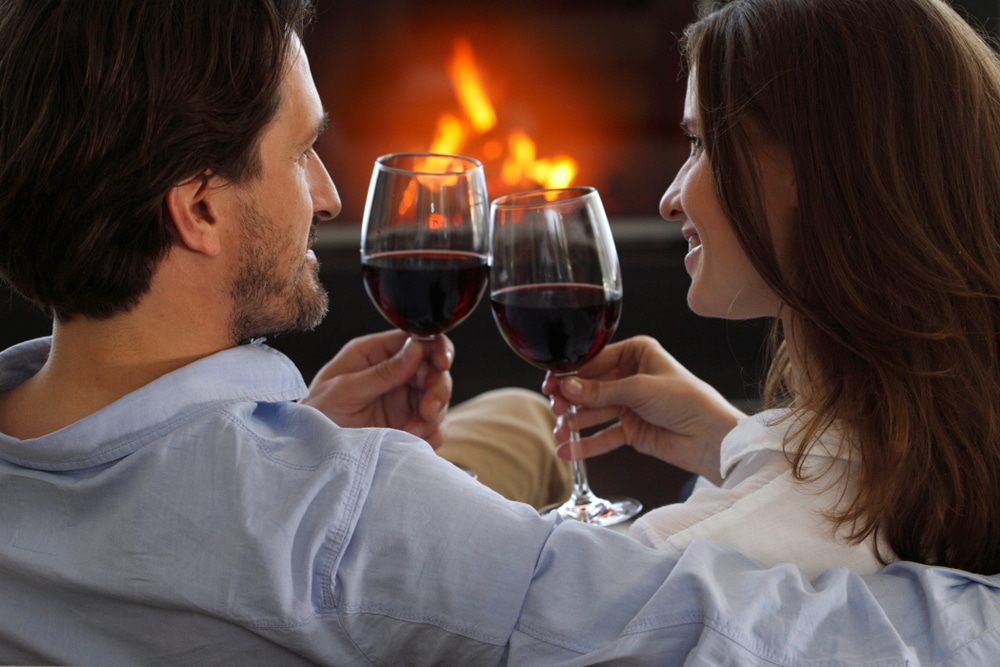 Stay at our Luxury Cabin in Wisconsin
Though there are plenty of generic hotel rooms and other accommodations closer to downtown Wausau – including our sister property at the unforgettable Stewart Inn, there is simply nothing that compares to our brand-new luxury cabin just outside of town. The cabin is situated on five private, wooded acres and offers a couple's retreat that is beyond compare.
From the moment you first pull up to this modern, airy cabin, you'll begin to see what makes it special. Designed with clean lines and outfitted with nothing but the finest in furnishings, with exquisite detailing throughout, there's simply no other cabin in Wisconsin quite like this one.
Picture windows look out over this private wooded retreat, where the only neighbors you'll encounter are the birds and wildlife that move throughout the property. Take a soak in the generous soaking tub, steam away your stress in our sumptuous steam shower, then curl up for a cozy night in with your sweetheart in front of the fireplace.
There's a well-appointed kitchen for you to make meals together throughout your stay, and the most restful night of sleep you've ever had away from home awaits in our luxury bedroom. With such an exquisite place to call home for a few days, you may no longer care about all the great things to do in Wausau in the winter – but they are here and waiting for you when you want to have a little fun.
This winter is the perfect time for a cozy couple's getaway – and there's no better place for it than our luxurious cabin in Wisconsin. Book your cabin getaway today!